Sherron Burgess is the Senior Vice President and Global Chief Information Security Officer at BCD Travel, the second largest travel company in the world.
BCD operates out of 109 countries, and it is Sherron's responsibility to ensure cyber security for the entire global operation.
Sherron is just one of two African American women who hold this title, and she is the youngest (still in her 30's). Sherron attributes her success to the way she was raised. Her mother was a professor, so they moved around a lot, experienced many different cultures, and learned different ways of doing things and thinking about things; all of which helped her to be so successful in her role today.
Sherron loves her position and her ability to help others understand their gift, and to operate through their gift, has helped her to become an inspirational leader and trailblazer in the complex world of cyber security.
Learn more about her story in this 23rd episode of 3 Stores, 2 Cotton Gins, 1 Remarkable Life!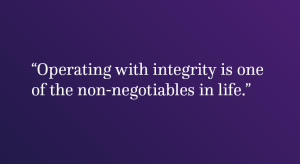 QUOTES:
Operating with integrity is one of the non-negotiables in life
Seize opportunities, don't be afraid to say yes
Reach out to your community because communities allow you to reach outside to the wider world
You're going to be alright, just keep going
These days young woman can do things, especially African American women, that they have never been able to do
Find out the details by listening to the full 3 Stores, 2 Cotton Gins, 1 Remarkable Life episode on Spotify, Stitcher and iTunes.