About Dr. Cynthia A. Bond Hopson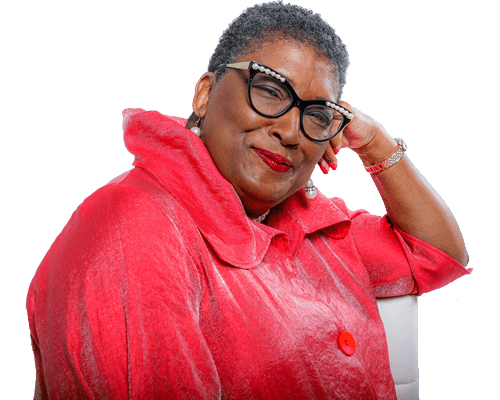 "When life gives you lemons, squeeze the lil suckers and show 'em who's boss." 
– Dr. Cynthia A. Bond Hopson
I'm Dr. Bond Hopson, so Good to Meet You!
Whether you're describing who she is or what she does, Cynthia A. Bond Hopson, Ph.D., is indescribably wonderful! She's charming, confident, effervescent, and utterly amazing! With a knack for inspiring women and audiences of all ages and taking them on a journey of self-care, liberation and discovery, her brand of uplift is just what the doctor ordered.
Mentor, sister, best-selling author, scholar, truth teller, public intellectual—any or all of the above–she's at home discussing higher education or helping women manage their time more effectively. She asked God to bless her with gifts that would bless others, and bless them she does. A world traveler, she and her husband, Roger, have traveled all 50 states, six continents, and are always ready for adventure. Their book of devotions for newlyweds and not-so-newlyweds, I Do…Every Day, was named #1 Best Selling Christian Book by Amazon.com.
Dr. Hopson's newest offering, Totally Gracefull, Wisdom for Phenomenal and Grace-filled Women, (Innovo Publishers, July 2019) is a purse-sized 31- day dose of inspiration and empowerment. Along with Bad Hair Days, Rainy Days and Mondays, Too Many Irons in the Fire and They're All Smoking, and 31 is Thirty-Wonderful, A Prayer and Reflection Journal/Journey for Triumphant Women, Second Edition, she beautifully uses laughter and straight talk to joyfully move audiences from complacency to power.
She is a gifted storyteller as evidenced through her groundbreaking tome The Women of Haywood, Their Lives, Our Legacy. Chronicling the lives of four professional women, she infuses their powerful stories of triumph with scholarly essays and reflections to provide rich context and additional insights. Her poignant letter to former First Lady Michelle Obama, was one of 100 selected for inclusion in the book, Go, Tell Michelle, a collection from African American women. The book became an award-winning stage play and best-seller.
Dr. Bond Hopson earned the B.A. in Mass Communications from Clark College (now Clark Atlanta University), the M.S. in Journalism from Murray State University, and the Ph.D., in Journalism from Southern Illinois University, Carbondale. In 2017, she received a doctor of humane letters degree from the historic Bethune Cookman University, and in 2019, the Thurston Group of Washington State awarded her a lifetime achievement award for her commitment to higher education. She is a member of the Delta Sigma Theta Sorority, Inc., the National Association of Black Journalists, and the NAACP.
Dr. Bond Hopson and her husband live in Cordova, Tennessee, and they have two children, Marcos and Angela, four grandchildren, Kiera, Terrell, Maya and Morgan, and one great-grandson, Avery.